KAutobuild for ixp23xx_defconfig on kernel 2.6.37-rc2-git7
The build of ixp23xx_defconfig was performed on gerald.kyllikki.org using gcc version 4.3.2 and binutils version 2.19.
The configure completed sucessfully, refer to the log for details
The zImage build completed succesfuly, it produced a 1890K kernel with 0 warnings. Refer to the build log for details.
76K of modules were built producing 0 warnings, refer to the build log for details
A complete list of every build this configuration has been attempted in.
Supported Machines
This default configuration produced kernels that support these machines:
ADI Engineering Roadrunner Platform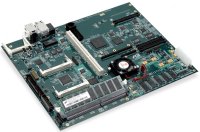 This machine is maintained by Stephen Goadhouse more information is available from its website

IP Fabrics Double Espresso
This machine is maintained by Lennert Buytenhek more information is available from its website

Intel IXDP2351
This machine is maintained by Deepak Saxena

Back to the KAutobuild for kernel 2.6.37-rc2-git7 page