KAutobuild for at91rm9200_defconfig on kernel 2.6.37-rc8-git1
The build of at91rm9200_defconfig was performed on gerald.kyllikki.org using gcc version 4.3.2 and binutils version 2.19.
The configure completed sucessfully, refer to the log for details
The zImage build completed succesfuly, it produced a 2421K kernel with 8 warnings. Refer to the build log for details.
3531K of modules were built producing 0 warnings, refer to the build log for details
A complete list of every build this configuration has been attempted in.
Supported Machines
This default configuration produced kernels that support these machines:
AT91RM9200 Evaluation Kit
This machine is maintained by Thibaut VARENE more information is available from its website

ATMEL AT91RM9200 Design Kit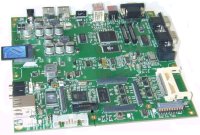 This machine is maintained by Arm Based Products Application Group more information is available from its website

Ajeco 1ARM single board computer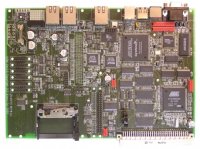 This machine is maintained by Lennert Buytenhek more information is available from its website

Cogent CSB337
This machine is maintained by Christopher Bahns

Cogent CSB637
This machine is maintained by Bill Gatliff more information is available from its website

Conitec's ARM9-based mcu-module
This machine is maintained by Peer more information is available from its website

ECB AT91
This machine is maintained by Nelson Castillo more information is available from its website

ECO 920
This machine is maintained by Hans-Joachim Ricklefs more information is available from its website

Embest ATEB9200
This machine is maintained by Andrew Patrikalakis more information is available from its website

Eukrea's CPUAT91 Module
This machine is maintained by Eric Bénard more information is available from its website

Picotux 200
This machine is maintained by Simon Richter more information is available from its website

Sperry-Sun Kafa
This machine is maintained by Sergei Sharonov

UCDRAGON_YL_9200
This machine is maintained by Steve Birtles more information is available from its website

kb9200
This machine is maintained by kb9200_dev more information is available from its website

Back to the KAutobuild for kernel 2.6.37-rc8-git1 page